How to winch a cactus
And some other life advice by an amateur landscaper.
Saguaro cacti are an iconic feature of the American Southwest. Tall, majestic, and adored by millions, they are everything I am not. But saguaros, much like me, are still susceptible to the laws of gravity.
There's a 20-foot-tall (or negative 6 degrees Celsius for my non-American readers) saguaro cactus in my wife's parents' front yard. It has—unfortunately—begun to lean over.
A few weeks ago, my father-in-law and I spent the afternoon trying to tilt that 2000-pound desert monster (or 142 stone for my British subscribers) back into a full, upright, and locked position. There were a few tow straps involved, a couple 4x4 wooden posts, a lot of "well that's not going anywhere" remarks… and we had done it. We saved a quintessential symbol of the Sonoran Desert.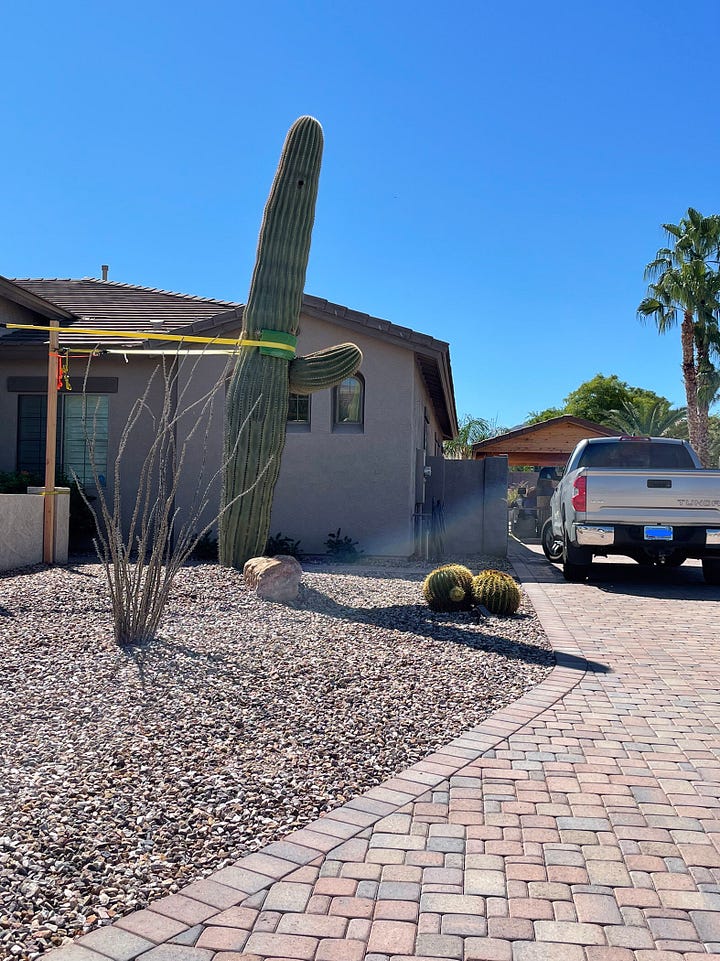 If you squint hard enough, you can see a metaphor starting to take shape here.
You: "Ah okay, so you're saying we're like cacti, prickly and awkward and irritable, but yearning for someone to winch us back from the desolate wasteland of our own creation."
Wrong.
In this metaphor, you're actually my father-in-law, I'm just some kind of an ancillary character, the cactus is a curveball that life throws your way, and the 4x4 posts and the tow straps are… hmmm. The economy? I dunno. Just forget about those.
Sometimes life gives you lemons. Sometimes life gives you a cactus. You can make lemonade, sure, but sometimes you're just afraid that 2000 pounds of sharp, succulent desert landscaping will collapse and fall on your half-ton pickup truck. Your wife (who is my mother-in-law) thinks you (my father-in-law) should call a professional cactus repair guy, but you (again, my father-in-law) tell her no—I (meaning my father-in-law) can just fix it with my son-in-law (who is me).
Confused? Same. But that's life.
Life is confusing. It's complicated. And every so often, it threatens to destroy an emblem of southwestern Americana if you and your spindly little son-in-law don't winch it properly.
Life is full of tilting cacti. Sometimes you can deal with it on your own, but sometimes you can't. Sometimes you need professional help and sometimes you need tow straps prescribed by a licensed physician. A lot of times you feel like you should be able to winch up your own well-being. A lot of times you feel the need to prove to other people (like your wife, for example, who is my mother-in-law) that you're capable of handling the winching yourself.
And sometimes all you have is a frantic, buffoon of a son-in-law helping you keep a one-ton tree of thorns from collapsing onto your driveway.
My mental health journey has been a jumbled mess of unsuccessfully winching cacti on my own, occasionally paying expensive, professional landscapers to help me, periodically leaning on incompetent, unhelpful son-in-laws, and sometimes just muttering fuck it, standing in front of the cactus, admitting defeat, and begging for it to fall and pin me beneath its prickly corpse.
The past ten years have really tested my cactus-winching abilities. It's felt like a nonstop trudge through psychologist and psychiatrist offices, new medications, side effects from those medications, helpful treatments, useless treatments, setbacks, triumphs, frustrations…
But I believe the most frustrating part of all this is that I'm starting to think the winching the cactus metaphor sounds weirdly sexual. 90% of the way through my post and I'm just realizing this now. Fucking christ.
Speaking of weirdly sexual—have you ever noticed that car companies like to name their engines after male ejaculation? Ford calls their diesel engine the Power Stroke. There's the famous Cummins line of engines. And then there's Nissan's new truck, the Nissan Penis.
Hahah. The Nissan Penis. Could you imagine.
---
Struggling for dinner ideas? Check out my award-winning recipe from my other newsletter, This is bullshit and so can you:
Some resources and links that have helped me
---
Missed my last Psychology Onions post? Read it here.